Home » Writer's Corner
A periodical for the people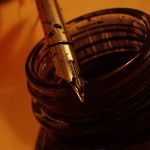 Letter from the editors
Welcome to the launch of The Public Intellectual. Our goal is simple: to create a publication where academics can offer their expert analysis of pressing social problems in an accessible journalistic style. Our mission is clear, but our motivations are more complicated.
We—the editors, or as we are better known, Heather, Jane and Nikki—are all Ph.D.s. We met in graduate school, three well-matched women, all disaffected gen Xers in the late 1990s. We thought we were training to work in fields where our work could have real political and social impact. For the most part we were not raised in families with a lot of money, unlike most who have the luxury of many years of schooling.
But we were not prepared for what we found once we started working in the academy. Each of us dug into big social problems —like inequality, race relations and gender roles, to name just a few of our interests. The chance to do that kind of research is why we became scholars. We wanted to encourage progressive change, a desire fueled by our own experiences on the wrong end of social inequality.
Our work, we found instead, had little impact on the world. We spent years slaving on research, only to have it published in peer-reviewed journals that few read, where we were expected to write in reference-studded language that even fewer could understand. These realities of academic life didn't sit well with us.
But we saw potential for a better way, and founded The Public Intellectual, our experiment in shaping academic work for a general audience. By publishing on the site, scholars offer their work to anyone with an internet connection. The style of PI makes that connection even easier. Our articles are clearly written. They are entirely free of jargon, footnotes, unnecessary references and anything else that bars non-experts from the academic world. They offer not only keen insights into policy and culture, but also give readers the pleasure of spending time with a smart mind at work on tough social problems.
For the first few issues, our site will be devoted mostly to works by academics. As we continue publication, however, we will hire journalists. Ultimately, we envision the site as a meeting place for academics and journalists, a publication that will both broaden the reach of academic work and enrich media coverage of complicated and controversial subjects.
We hope you'll join us in this experiment. Readers can help shape The Public Intellectual in several ways.
Check out our submission guidelines if you want to contribute an article. If you're an academic who also makes documentaries or other films, and would like to have a clip from your project featured in our video corner with a short piece about your work, email us. If you're an academic who has published journalism or books with a non-academic press, or who has a widely read blog, and would like to contribute advice to writers, you should also email us. We'd love to feature you in our advice to writers blog. And we're open to suggestions for themes, issues you'd like to see covered, or just general feedback. Get in touch on Twitter, Facebook, or send us a note through email.
Thanks for joining us at The Public Intellectual. We hope, with your help, to see our "periodical for the people" succeed.