Home » Think Again
The spiritual life of the American teenager
By Lisa Pearce and Melinda Lundquist Denton
Lisa Pearce and Melinda Lundquist Denton take a close look at the spiritual life of young people in America. Melinda is Assistant Professor of Sociology at Clemson University. She studies adolescents, families and religion. Lisa is Associate Professor of Sociology, and a Carolina Population Center Faculty Fellow at the University of North Carolina at Chapel Hill. She studies religion and families in the U.S. and Nepal. Their book, A Faith of Their Own, was published earlier this year by Oxford University Press.
Young people aren't rebellious hellions. A whopping 95 percent of adolescents, it turns out, believe in God, a number that mirrors the American population at large.
The vision of the rebel-without-a-cause-adolescent, where young people reject the mores and values of mainstream culture, is just one of the stereotypes challenged by our study of teenagers and religion. We spoke to 2,530 young people in 2002, and then again in 2005, as part of the National Study of Youth and Religion. Our analysis of this data appeared in our book, A Faith of Their Own, earlier this year.
Using latent class analysis, we found five general profiles of religiosity among adolescents in the U.S., and the distribution of these groups in 2002 and 2005 is presented in the bar chart below.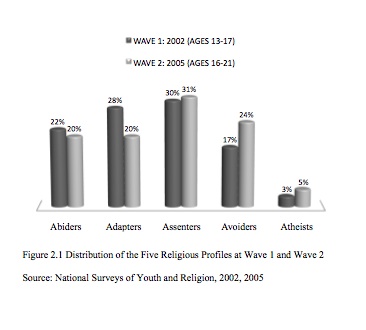 Some adolescents fit into an expected category – 20 percent of 16-21-year-olds, for instance, are very religious in expected ways. We called this group Abiders. They go to church regularly and say they have a personal connection to God. Religion is the salient and central feature of their lives. Another group of adolescents, Assenters (31% of 16-21 year-olds), bow to the religious beliefs they were raised with, but have little of their own investment in religion.
But the conventionality of Abiders and Assenters wasn't exactly the rule. Young people also work out their own forms of religiosity that don't necessarily conform to what organized religions call for, but fits their needs.
Take Diego, a young man who sees himself as very religious, describes God as "a father-figure who is always there for me," and prays every day. Diego, like most of the group we called Adapters, doesn't go to church regularly. About 20 percent of people 16-21 fall into this group.
"I take it for what it is," Diego says of his faith. "I don't follow it to the core. And, I think that God understands me like that."
There are issues in Diego's house – like poverty and alcoholism – that make it hard for him to get to church regularly. His church youth group is frustrating, he said, because the leaders are out of touch with the kind of support he needs.  Other aspects of family background that vary by religious profile are displayed in the table below.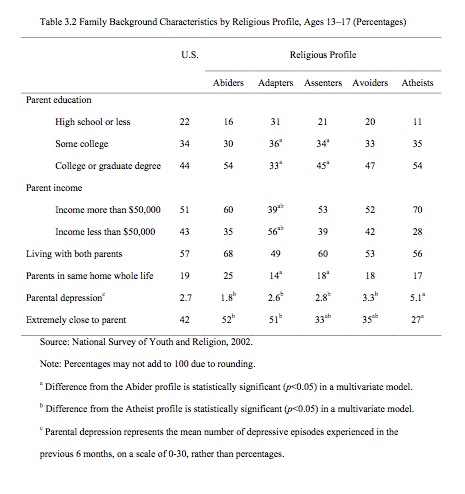 Adapters were one of three groups of teens who said they believed in God but didn't attend religious services regularly. Most studies would have grouped the teens together based on the similar irregularity of religious involvement, but we looked at several factors in our study besides participation in religious services, including how close people said they felt to God and how much religion guided their everyday lives.
Twenty-four percent of teens, we found, said that there was a God, but didn't actually place much value on religion. We called them Avoiders. Teens like Brandon, for example, have been to church a few times but are not necessarily in any hurry to go back. He thinks God exists and "sits back and watches you," but he wouldn't describe himself as religious.
Though he says he's not religious, Brandon is still a significant distance in terms of his religious beliefs from Atheists, who are the minority in our national sample.
Five percent of 16-21-year-olds clearly articulate that they don't believe in God. Atheist teens typically have parents who are Atheist too, and also highly educated.
"Religion just isn't on my radar," says Samantha, a 17-year-old Atheist who is close to her parents, and likes to talk about books and listen to NPR with her father.
"I always sort of thought that religion was just something that people used to cope with the way things are," Samantha says. She prefers "logic and the rationale that I just can't do anything about what has happened."
Previous research shows that those who are religious in the same way as Abiders, have higher rates of happiness and better health overall. In our survey, self-reported rates of happiness and health were similarly high for both Abiders and Atheists compared to all others, suggesting that religious activity may not be the only reason for better outcomes for the faithful. A well-articulated system of belief or meaning (whether endorsing religion or not) may be a key contributor to wellbeing.  This chart shows subjective well-being across the five religious profiles: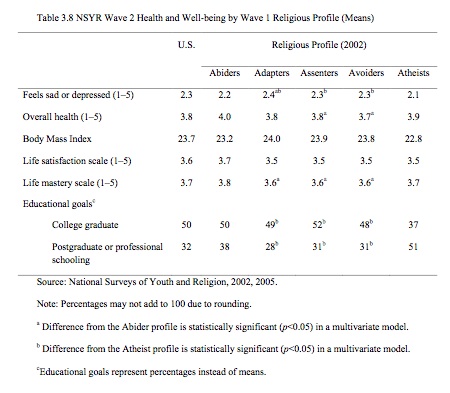 Religion, our results suggest, is complicated. Thinking about religiousness on a scale of high to low misses much of the nuance, and doesn't give the most accurate picture of the spiritual life of American teens.